| | |
| --- | --- |
| Posted on 24 July, 2020 at 17:45 | |
A day late again!  I need to get back into my routine....

Today's blog is built around something we saw in our garden for the first time: bumblebees mating.

There are 4 stages in the lifecycle of a bumblebee:
1. Queens emerge from hibernation and start a new colony (she has been fertilised the previous year, before hibernation)
2. Workers (females) are produced and start to forage; the colony develops and grows
3. Unfertilised eggs (males) are laid and worker larvae develop into new queens
4. Males and new queens mate

When the adult males emerge they spend a few days in the nest, but do no work, and then they leave the nest for good and forage for themselves. They can often be seen sheltering under the heads of flowers when it rains or when it gets dark.
New queens emerge about a week or so after the males. The new queens leave the nest to forage for themselves, returning to the nest for shelter, but they do not add to the existing nest provisions. When the new queen is ready to mate she flies to where the attractant chemical has been deposited by the male and waits for a suitable mate. Then the two mate - as in these pictures of the Red-tailed Bumblebee (Bombus lapidarius)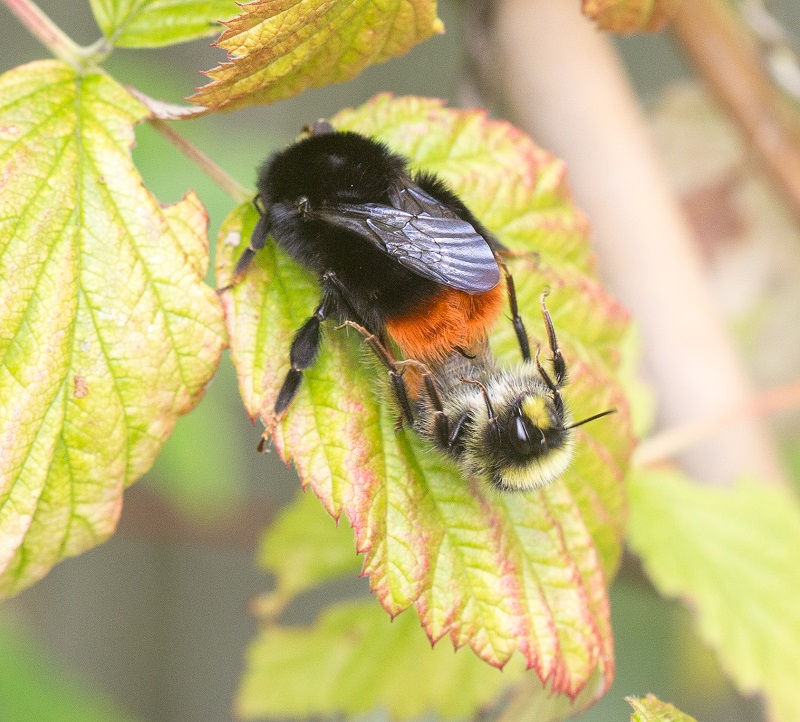 The adult male bumblebee (in common with most adult male insects) has only one function in life - that is to mate. He will fly in a circuit depositing a queen-attracting scent pheromone produced from a gland in his head in suitable places, usually in the morning, and replacing the scent if it rains. Different species have different preferred flying heights for this, and different queen attracting scents.
The pheromone is used to scent-mark prominent objects (tree trunks, rocks, posts, etc) on the circuit which is usually a few hundred metres long. The scent of some species can be detected by some humans. Usually the males patrol at species specific heights.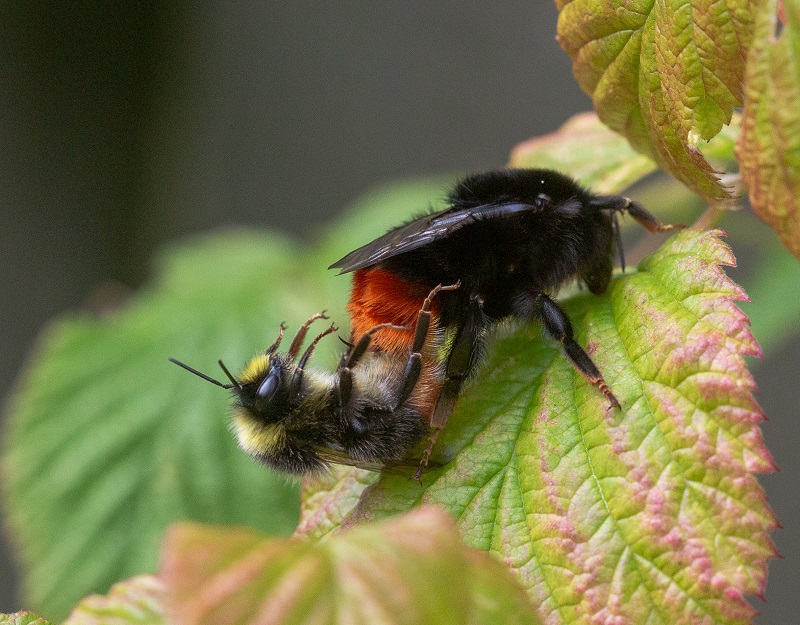 Mating usually takes place while resting on the ground or on vegetation. At the start of mating the male grabs on to the queen's thorax to get himself into the correct position.

In order to mate the female must extend her sting so that the male can insert his genital capsule.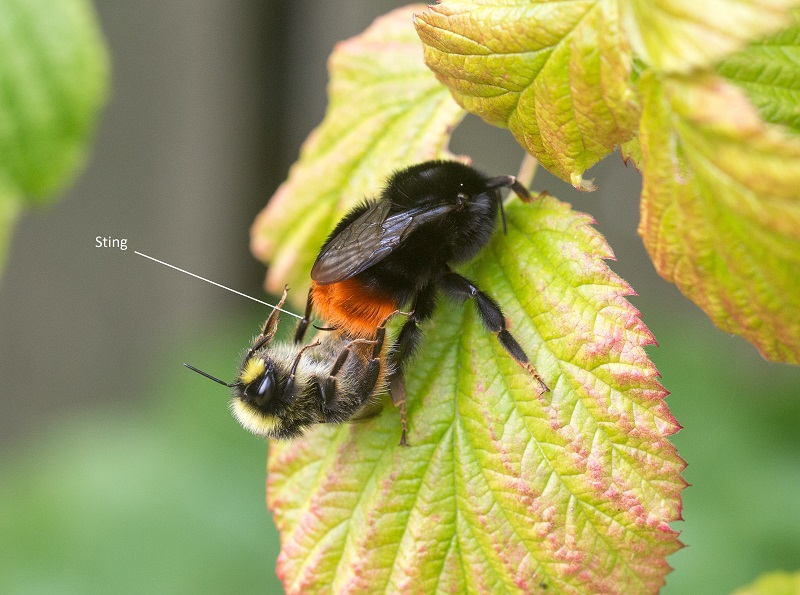 The time taken for matings varies widely from 10 minutes to 80 minutes. The sperm is transferred within the first 2 minutes of mating, and the bees are in a rather vulnerable position, so why do they continue for so long? Well, after the male passes his sperm into the queen he pumps a sticky mixture into her genital opening. This genital plug takes time to harden, and once hardened can completely or partially block the entry of sperm from other males for up to three days. So even though the two are in a vulnerable position, it is in the interest of the male to hang on to ensure that his genes have a good chance of being passed on to the next generation, and as most males don't even manage to mate, and those that do usually just mate once, he wants to be sure his genes will be passed on.
New queens usually search for a hibernation site soon after mating.


I'm not sure we would have been looking so closely at what is happening in our garden if it weren't for "lockdown". 
Food for thought...

It was great to deepen our understanding of how 'nature' works.

Categories: 2020
/